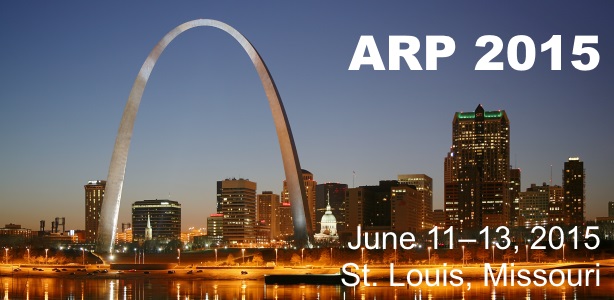 The Biennial ARP Conference
We are pleased to announce that registration for the 2015 ARP Conference in St. Louis, MO from June 11-13 is now open. Early registration extends until April 15, and regular registration ends June 1. Click here to register.
The conference includes two and a half days of scientific meetings. The meeting begins with a Presidential symposium at 4 p.m. on Thursday June 11, followed by an opening reception. The meeting culminates with an optional gala dinner in the Zodiac Room of the Chase Park Plaza Hotel Saturday evening (separate fee). Conference registration includes breakfast and coffee breaks both days, light appetizers at the Thursday reception, drinks at Friday's poster session, and lunch one of the days.
Location and Hotel Information
The meeting will be held at the Chase Park Plaza Hotel. Please note: After May 21, the hotel will release all of the ARP reserved rooms. After this date, it may not be possible to get the conference rate, and the rooms may all be booked. For more information about the conference location, see this announcement in a recent issue of the ARP newsletter.
Scientific Program
The conference program committee has selected symposia and posters to reflect the broad range of personality psychology. In addition, the program will feature a presidential symposium, a Rising Stars symposium to showcase the field's stellar young talent, a data blitz session, an invited symposium sponsored by the European Association for Personality Psychology, and award talks from the Tanaka dissertation award winners and the winner of the Murray award, Dean Keith Simonton.
We are looking forward to seeing you in St. Louis this June!
Simine Vazire and Josh Jackson, Local Arrangements Co-Chairs
Jennifer Tackett and Marc Fournier, Program Co-Chairs
Daniel Ozer, President
Rebecca Shiner, Executive Officer
Conference Information
2015 – St. Louis, MO (Registration | Location)
2013 – Charlotte, NC (Program)
2011 – Riverside, CA (Program)
2009 – Evanston, IL (Program)
2008 – Albuquerque, NM (Program)
2007 – Memphis, TN (Program)
2006 – Palm Springs, CA (Program)
2005 – New Orleans, LA (Program)
2004 – Austin, TX (Program)
2003 – Los Angeles, CA (Program)
2002 – Savannah, GA (Program)
2001 – San Antonio, TX (Program)
2000 – Nashville, TN (Program)