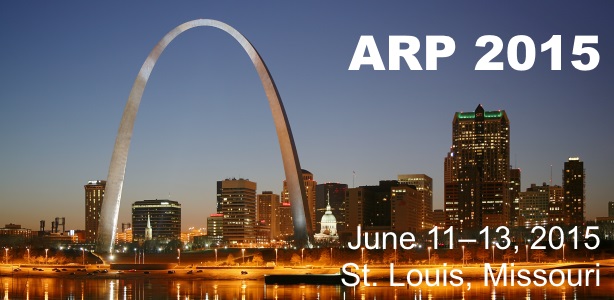 The Biennial ARP Conference
The 2015 ARP Conference was held in St. Louis, MO from June 11-13. The complete conference program is available here. The conference featured symposia and posters reflecting the broad range of personality psychology. Highlights included a presidential symposium, a Rising Stars symposium to showcase the field's stellar young talent, a data blitz session, an invited symposium sponsored by the European Association for Personality Psychology, and award talks from the Tanaka dissertation award winners and the winner of the Murray award, Dean Keith Simonton.
Thanks to everyone for making this an outstanding conference. We look forward to seeing you at the 2017 ARP conference in Sacramento, CA!
Simine Vazire and Josh Jackson, Local Arrangements Co-Chairs
Jennifer Tackett and Marc Fournier, Program Co-Chairs
Daniel Ozer, President
Rebecca Shiner, Executive Officer
Conference Information
2017 – Sacramento, CA
2015 – St. Louis, MO (Program)
2013 – Charlotte, NC (Program)
2011 – Riverside, CA (Program)
2009 – Evanston, IL (Program)
2008 – Albuquerque, NM (Program)
2007 – Memphis, TN (Program)
2006 – Palm Springs, CA (Program)
2005 – New Orleans, LA (Program)
2004 – Austin, TX (Program)
2003 – Los Angeles, CA (Program)
2002 – Savannah, GA (Program)
2001 – San Antonio, TX (Program)
2000 – Nashville, TN (Program)