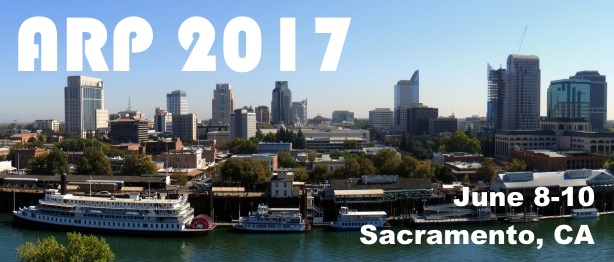 The Biennial ARP Conference
The 2017 ARP Conference conference will be held in Sacramento, California, from June 8 to 10, 2017. The main conference will begin late afternoon on June 8 and conclude with a Gala Dinner the evening of June 10. In addition, ARP will sponsor a preconference, Research Methods in Personality Psychology, during the day on June 8.
The conference will take place in the Sheraton Grand Sacramento Hotel located in downtown Sacramento, a vibrant area with lots of shops and restaurants. As the capital city of California, Sacramento is known for its bustling downtown, historic Old Town, State Capitol, farm-to-fork restaurants, and flourishing craft beer scene. And of course, Sacramento is only a stone's throw away from Davis, home to the University of California, Davis.
The Program Committee is now soliciting proposals for symposia and posters that cover a broad range of substantive topics and reflect the diversity of our discipline. Submissions will be accepted from November 1, 2016 through January 15, 2017. In addition, we are pleased to announce that the program will feature a presidential symposium, the Rising Stars symposium to showcase the field's stellar young talent, a data blitz session, an invited symposium sponsored by the European Association for Personality Psychology, and award talks from the Murray award winner, Oliver Schultheiss, and the Tanaka award winners, John Rauthmann and Daniel Briley.
Poster abstracts should be submitted via the online poster portal.
Symposium abstracts should be submitted via the online symposium portal.
More information about submitting a poster or symposium is available in the full call for submissions.
Conference Information
2017 – Sacramento, CA (Call for Submissions)
2015 – St. Louis, MO (Program)
2013 – Charlotte, NC (Program)
2011 – Riverside, CA (Program)
2009 – Evanston, IL (Program)
2008 – Albuquerque, NM (Program)
2007 – Memphis, TN (Program)
2006 – Palm Springs, CA (Program)
2005 – New Orleans, LA (Program)
2004 – Austin, TX (Program)
2003 – Los Angeles, CA (Program)
2002 – Savannah, GA (Program)
2001 – San Antonio, TX (Program)
2000 – Nashville, TN (Program)