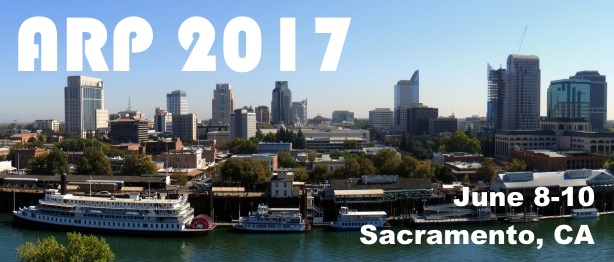 The Biennial ARP Conference
The 2017 ARP Conference conference will be held in Sacramento, California, from June 8 to 10, 2017. The main conference will begin late afternoon on June 8 and conclude with a gala dinner the evening of June 10. In addition, ARP will sponsor a preconference, Research Methods in Personality Psychology, during the day on June 8. Both a conference program overview and the full program are now available.
Registration for the main conference, preconference, and gala dinner is now open here. Early registration extends until April 15, and regular registration ends May 25. The registration fee for the main conference is $390 for members ($340 until April 15) and $480 for non-members ($430 until April 15). Registration for the preconference is $95 for both members and non-members ($80 until April 15).
Main Conference and Scientific Program
The main conference includes two and a half days of scientific meetings. The meeting begins with a Presidential address from Dan McAdams at 5 p.m. on Thursday June 8, followed by a talk by Murray award winner Oliver Schultheiss and an opening reception. The program on Friday June 9 and Saturday June 10 includes symposia on a broad range of topics in personality, two poster sessions, the Rising Stars symposium to showcase the field's stellar young talent, a data blitz session, an invited symposium sponsored by the European Association for Personality Psychology, and talks from the Tanaka award winners, John Rauthmann and Daniel Briley, and the to-be-announced Early Career award winner. An overview of the conference program is available here.
Conference registration includes breakfast and coffee breaks Friday and Saturday, lunch on Friday, and light appetizers and drinks at the Thursday reception and the poster sessions on Friday and Saturday.
Preconference
We are excited to host a preconference on Research Methods in Personality Psychology on Thursday June 8 from 8:30 am to 4:30 pm. This preconference celebrates the 10th anniversary of the Handbook of the same title (Guilford, 2007) and is organized by the editors of that volume–Rick Robins, Chris Fraley, and Bob Krueger. The preconference registration fee includes a plated lunch, coffee and other drinks before the meeting (starting at 7:30), and coffee breaks throughout the day.
The preconference talks will be pitched at a level that will be useful to both seasoned and new personality researchers and will include talks on the following topics:
New Advances for Studying Personality the Long Way: Longitudinal Structural Equation Models for Evaluating Personality Development in Context (Brent Donnellan)
Narrative Methods: Why You Should Use Them, and How to Do So (Kate McLean)
Personality, the Multivariate Construct: Statistical and Methodological Problems (and Some Solutions) (Ryne Sherman)
Causal Inference in Personality Research: What Might be Possible with Modern Genetic and Genomic Strategies? (Bob Krueger)
How Machine Learning Can Inform Personality Psychology (Tal Yarkoni)
Symposium: Using New Technologies to Study Personality Expression and Change (Co-Chairs: Mathias Allemand & Matthias R. Mehl)
Symposium: Caught on Camera: Leveraging Wearable Technology to Measure Situations and Behavior (Chair: Laura P. Naumann)
Gala Dinner
The meeting culminates with a catered gala dinner (separate fee) with unlimited wine and beer at the beautiful Tsakopoulos Library Galleria from 7:30 pm to 12:30 am Saturday June 10. ARP is subsidizing part of the cost of the dinner and strongly encourages both graduate students/post-docs and regular ARP members to join us for this festive celebration at the end of the meeting.
Hotel Information
The conference will take place in the Sheraton Grand Sacramento Hotel located in downtown Sacramento, a vibrant area with lots of shops and restaurants. As the capital city of California, Sacramento is known for its bustling downtown, historic Old Town, State Capitol, farm-to-fork restaurants, and flourishing craft beer scene. And of course, Sacramento is only a stone's throw away from Davis, home to the University of California, Davis. More details about the venue and Sacramento can be found here. More details about reserving a room at the ARP rate can be obtained by contacting Rebecca Shiner at rshiner@colgate.edu.
Please note: After May 15, the hotel will release all of the ARP reserved rooms. After this date, it may not be possible to get the conference rate, and the rooms may all be booked.
We are looking forward to seeing you in Sacramento this June!
Rick Robins, Local Arrangements Chair
Wiebke Bleidorn and Dan McAdams, Program Co-Chairs
Rebecca Shiner, Executive Officer
Conference Information
2017 – Sacramento, CA (Program Overview | Program)
2015 – St. Louis, MO (Program)
2013 – Charlotte, NC (Program)
2011 – Riverside, CA (Program)
2009 – Evanston, IL (Program)
2008 – Albuquerque, NM (Program)
2007 – Memphis, TN (Program)
2006 – Palm Springs, CA (Program)
2005 – New Orleans, LA (Program)
2004 – Austin, TX (Program)
2003 – Los Angeles, CA (Program)
2002 – Savannah, GA (Program)
2001 – San Antonio, TX (Program)
2000 – Nashville, TN (Program)