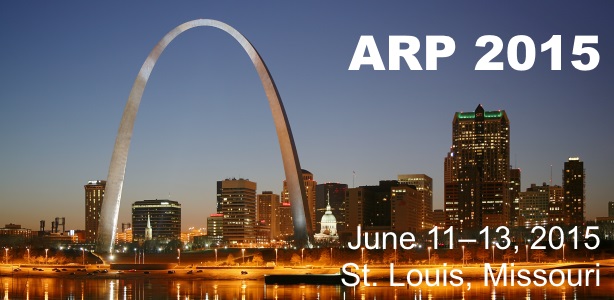 Welcome to ARP!
Welcome to the online home of the Association for Research in Personality. ARP is a scientific organization devoted to bringing together scholars whose research contributes to the understanding of personality structure, processes, and development. ARP aims to further the scientific study of personality through our biennial conference, our newsletter, the official journal of the association (Journal of Research in Personality), and a major journal co-sponsored with several other scientific associations (Social Psychological and Personality Science). We invite you to browse our website and learn more about the Association and the field of personality psychology. If you are interested in joining ARP, please visit our membership page.
News and Updates
2015 ARP CONFERENCE submissions opening soon
October 9, 2014 – The next ARP conference will be held in St. Louis, Missouri on June 11-13, 2015. Abstract submissions will open soon, and will be due by January 15, 2015. As usual, submissions will be solicited that reflect the broad range of personality psychology, and will include submissions for posters and symposia. In addition, the program committee is planning a range of content for the meeting, including the presidential symposium, Tanaka Award winner talks, the Rising Stars symposium, a data blitz session, and some exciting new features: the Murray Award address by Dean Keith Simonton and an invited symposium sponsored by the European Association of Personality Psychology. For more information about the location, see this announcement in the latest issue of the ARP newsletter, and stay tuned for more information soon, including submission guidelines.
ARP Election Results
September 18, 2014 – It is our pleasure to announce that Jennifer Tackett has been elected as the new Secretary-Treasurer of ARP, and that Julie Norem and Tom Widiger have been elected as new members of the Executive Board. Their terms will begin this coming January. Thanks are due to Jennifer Lodi-Smith, Tera Letzring, and Emily Durbin for their willingness to serve ARP.
2013 Tanaka Award Winner: Ivana Anusic
July 21, 2014 – It is our pleasure to announce that Ivana Anusic is the winner of the 2013 J.S. Tanaka Dissertation Award. The Dissertation, titled Development of cultural identity and well-being of immigrants: Analysis of a longitudinal study of immigrants to Germany, was completed at Michigan State University under the direction of Richard E. Lucas. Dr. Anusic is currently postdoctoral researcher at Michigan State University, Department of Psychology. She is to be congratulated on this outstanding achievement. More information about the Tanaka Award is available here.
Rich Lucas reappointed as JRP editor in chief
June 25, 2014 – The ARP Executive Committee is pleased to report that Rich Lucas has been appointed to another three-year term as Editor-in-Chief of the Journal of Research in Personality. Please join us in thanking Rich for his exemplary service to the field and congratulating him on his re-appointment.
2014 Murray Award Winner: Dean Keith Simonton
June 10, 2014 – Dean Keith Simonton, Distinguished Professor of Psychology at The University of California Davis, has been awarded the 2014 Henry A. Murray Award for distinguished contributions to the study of individual lives and whole persons. Professor Simonton will be honored at the biennial convention of the Association for Research in Personality in June 2015 where he will give an invited address. The complete announcement is available here.