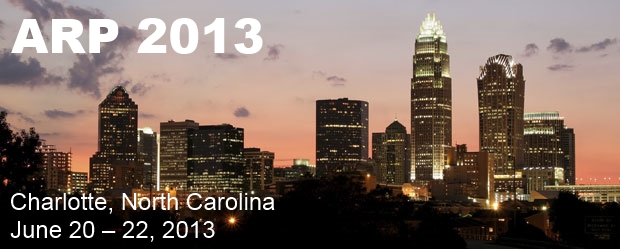 Welcome to ARP!
Welcome to the online home of the Association for Research in Personality. ARP is a scientific organization devoted to bringing together scholars whose research contributes to the understanding of personality structure, processes, and development. ARP aims to further the scientific study of personality through our biennial conference, our newsletter, the official journal of the association (Journal of Research in Personality), and a major journal co-sponsored with several other scientific associations (Social Psychological and Personality Science). We invite you to browse our website and learn more about the Association and the field of personality psychology. If you are interested in joining ARP, please visit our membership page.
News and Updates
psychophysiology Preconference
May 21, 2013 – The "Studying Personality via the Autonomic Nervous and Neuroendocrine Systems" preconference, led by Iris Mauss and Sally Dickerson, has now received sufficient registration. It will be held as planned on June 20, 2013. To learn more about the preconference, or to register for it, visit our conference registration page.
two new arp members-at-large elected
May 8, 2013 – We are pleased to announce that Kate McLean and Erik Noftle have been elected as new members-at-large of the ARP Executive Committee. Their terms will begin in January 2014.
2013 conference draft program now available
April 26, 2013 – A draft of the scientific program for the 2013 ARP conference is now available. Highlights include an opening address by ARP President William Fleeson, invited addresses by Jeffry Simpson and Laura King, 16 symposia, and two poster sessions. See our conference registration page to register for the conference.
2013 Conference registration now open
March 12, 2013 – The 2013 ARP conference will be held June 20-22 in Charlotte, North Carolina, and registration is now open! For more information about the scientific program, venue, and registration, visit our conference page.
Tanaka Dissertation Award Winners
January 30, 2013 –It is our pleasure to announce the winners of the 2011 and 2012 J. S. Tanaka Personality Dissertation Awards. The 2011 winner is Sarah DePauw (Ghent University, advisor Ivan Mervielde) for for her dissertation entitled The contribution of temperament vs. personality to problem behavior in children and adolescents. The 2012 winner is Joshua J. Jackson (University of Illinois, advisor Brent Roberts), for his dissertation entitled The effects of educational experiences on personality trait development. Both are to be congratulated on this outstanding achievement. For more information, visit the Tanaka Award page.
Personality Meta-Blog
December 4, 2012 – ARP now hosts the Personality Meta-Blog, a portal to blogs about personality science. Check it out!