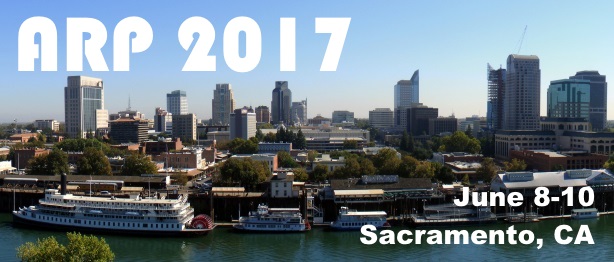 Welcome to ARP!
Welcome to the online home of the Association for Research in Personality. ARP is a scientific organization devoted to bringing together scholars whose research contributes to the understanding of personality structure, processes, and development. ARP aims to further the scientific study of personality through our biennial conference, our newsletter, the official journal of the association (Journal of Research in Personality), and a major journal co-sponsored with several other scientific associations (Social Psychological and Personality Science). We invite you to browse our website and learn more about the Association and the field of personality psychology. If you are interested in joining ARP, please visit our membership page.
News and Updates
new issue of the arp newsletter
November 14, 2016 — The 2016 edition of P, the annual ARP newsletter, is now available, and it's the best issue yet! It includes reports from ARP officers and the European Association for Personality Psychology, updates from our affiliated journals, interviews with award winners in personality psychology, news on the 2017 ARP conference and our preconference at SPSP, and two special features: an article on non-academic career paths for personality psychologists and a piece by ARP President Dan McAdams about his experiences writing the Atlantic Magazine cover story on Donald Trump.
Call for submissions to the 2017 arp conference
November 1, 2016 — The ARP Program Committee is now soliciting abstracts for presentations at the 5th Biennial Meeting of the Association for Research in Personality, which is scheduled to take place Thursday, June 8th, to Saturday, June 10th, 2017, in Sacramento, California. The Conference Program Committee is hoping to solicit symposia and posters that cover a broad range of substantive topics within the field.
More information about the conference can be found on our conference page, and details about the submission process can be found in the full call for submissions.
Daniel A. Briley wins the 2015 Tanaka Personality Dissertation Award
October 20, 2016 — It is our pleasure to announce that Daniel A. Briley is the winner of the 2015 J.S. Tanaka Dissertation Award. The Dissertation, titled The Structure, Development, and Correlates of Individual Differences in Human Personality, was completed at the University of Texas at Austin under the supervision of Elliot Tucker-Drob. Dr. Briley is currently Assistant Professor at the University of Illinois, Urbana-Champaign. He is to be congratulated on this outstanding achievement.
Dr. Briley will be recognized with a plaque and invited to give a talk at the 2017 ARP conference. He will also receive $750 to help defray costs of attending the meeting.
Thank you to the committee members who gave generously of their time and expertise to carefully evaluate this pool of highly competitive submissions: John Rauthmann (2014 winner), Will Dunlop, and Wiebke Bleidorn (Chair).
Announcing the 2017 ARP conference
September 28, 2016 — We are excited to announce that the 2017 ARP Conference will be held in Sacramento, California, from June 8 to 10, 2017. The main conference will begin late afternoon on June 8 and will conclude with a Gala Dinner the evening of June 10. In addition, ARP will sponsor a preconference, "Research Methods in Personality Psychology," during the day on June 8.
The conference will take place in the Sheraton Grand Sacramento Hotel located in downtown Sacramento, a vibrant area with many shops and restaurants. As the capital city of California, Sacramento is known for its bustling downtown, historic Old Town, State Capitol, farm-to-fork restaurants, and flourishing craft beer scene. And of course, Sacramento is only a stone's throw away from Davis, home to the University of California, Davis.
The Program Committee is hoping to solicit symposia and posters that cover a broad range of substantive topics and reflect the diversity of our discipline. Submissions will be accepted from November 1, 2016 through January 15, 2017. In addition, we are pleased to announce that the program will feature a presidential symposium, the Rising Stars symposium to showcase the field's stellar young talent, a data blitz session, an invited symposium sponsored by the European Association for Personality Psychology, and award talks from the Tanaka award winners and the Murray award winner, Oliver Schultheiss.
Visit our Conference page for more information, and stay tuned for future announcements!
2017 Lifespan Social-Personality Preconference at SPSP
August 17, 2016 — The Lifespan Social-Personality Preconference at the Society for Personality and Social Psychology (SPSP) conference, sponsored by the Association for Research in Personality since 2014, provides a forum for new and exciting developmental research of interest to personality and social psychologists.
The 2017 Lifespan Social-Personality Preconference features symposia on epigenetics, child personality, culture and identity development, and methods, as well as a poster session at which all attendees are encouraged to present their recent work on lifespan social-personality development. For more information, an overview of the schedule and speakers, a link to last year's preconference, and information on registration with SPSP, please visit the LSP website at SPSP Meetings.
Please note that, thanks to ARP sponsorship, student members of ARP may receive a discount to their registration. Please contact us at lodismij@canisius.edu or enoftle@willamette.edu to get the discount code.
We hope to see you in San Antonio!
–Jenn Lodi-Smith & Erik Noftle, Co-Organizers
Lodi-smith and Wright elected to the ARP executive board
July 7, 2016 — We are pleased to announce that Jennifer Lodi-Smith and Aidan Wright have been elected to the ARP Executive Board. They will serve as Members-at-Large from 2017 through 2019. Many thanks to everyone who ran in the election.
ARP Submits STatement about Mental Health Research to NIMH
June 28, 2016 — The National Institute of Mental Health recently put out a call inviting "comments from the general public on the state of mental illness research and NIMH's role in the development of this research." In response, the ARP Executive Board submitted a statement about the important role of personality in research on psychopathology and mental health. Tom Widiger took the lead on writing the statement for ARP. The full statement is available here.
Oliver C. Schultheiss: Winner of the 2016 Henry A. Murray Award
June 23, 2016 — Oliver C. Schultheiss, Professor of Psychology and Chair for Experimental Psychology, Motivation, and Affective Neuroscience at Friedrich-Alexander University, has been awarded the 2016 Henry A. Murray Award for distinguished contributions to the study of individual lives and whole persons. Professor Schultheiss will be honored at the biennial convention of the Association for Research in Personality in June 2017 where he will give an invited address.
Dr. Schultheiss received his Ph.D. in 1996 from Friedrich-Alexander University. His impressive body of scholarship over the past two decades is most notable for its groundbreaking contributions to the study of implicit motives, a central focus of Henry Murray. Indeed, Dr. Schultheiss's intellectual leadership and methodological advancements in the use of the Picture Story Exercise (TAT) are arguably the most significant causal forces in the rise of attention to implicit motives in the study of personality and human motivation. His work, which includes over 60 articles and 20 chapters published across a wide array of prestigious journals and handbooks, examines intersections among cognitive, affective, physiological, behavioral and social factors in the dynamic processes governing implicit motivation. This work embodies the spirit of the Murray tradition by embracing multiple levels of analysis and resisting over-simplification in the study of whole persons. Noteworthy contributions include Dr. Schultheiss's influential and rigorous studies on the hormonal underpinnings of the implicit power motive within competitive contexts as well as his recent theoretical and methodological work advocating for the use of within-person, ipsative profiles to assess the congruence between implicit and explicit motives. The complete announcement is available here.